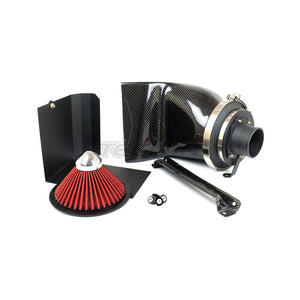 TEGIWA Carbon Airbox. Specifically designed for the Civic Type R and manufactured from carbon fibre. This kit gives excellent performance gains over the original Civic EP3 setup and an immense induction noise. The kit also looks great in the engine bay! It is supplied complete with all fixings/brackets for an OEM quality fit. The filter is a cotton mesh filter. The intake is likely to give you between 5-10bhp without mapping and with mapping upto 15bhp peak and much improved mid-range.
Please also see the Tegiwa Silicone Intake Pipe which will compliment the airbox but is not included with the kit.
FAQ's
- Can the intake suffer from hydrolock? No. The airbox features a drain hole in the bottom of the enclosure so water can drain freely. We have sold over 1000 kits now with no reported issues.