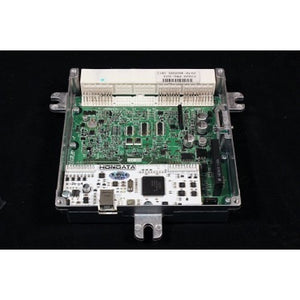 This ecu conversion is not as straight forward as it is in USA models please contact us for more info on parts and labour costs before purchasing info@typetwoonline.com
2001-2005 D17 D16V1 Civic SPORT DX, LX, HX & EX Manual transmission only

The K-Pro for the D16V1 and D17 consists of a hardware modification to a donor K-Series ECU, a specially modified cam timing wheel, plus Windows software which allows you to re-program the ECU and datalog sensors.
Application Notes
The stock D17 ECU cannot be converted to a programmable ECU. A new RSX-S ECU or donor ECU must be used.
The Hondata adjustable cam pulley has specially modified timing teeth. The stock timing wheel will not work.
The Civic HX and all 2004-2005 Civics use a wideband 02 sensor compatible with the K-Pro.
Base maps are included for a stock D17 non VTEC Civic and a D17 non VTEC turbo.
The K-Pro ECU will not work on automatic D17 Civics.
Any K-Pro used on a 2002-2004 RSX-S will work provided the Hondata cam gear is used.
Donor ECUs
ECUs for the D16V1 and D17 may be sourced from the following vehicles
2002-2004 RSX Base 5 speed (PND -A0 ECU)
2002-2004 RSX Type S 6 speed  (PRB-A0 - ECU)
2002-2004 CRV 5 speed (PPA-A0 ECU)
2002-2005 Japanese DC5 Integra Type R (PRC ECU)
2003-2005 Japanese Civic Type R (PRD ECU)
2002-2005 Civic Si (PNF ECU)
General Notes
All 2004-2005 Civics and the 2001-2003 Civic HX use a compatible wideband 02 sensor. Two wires need to be moved for rear O2 operation.
The 2001-2003 Civic DX, LX & EX Civics use a narrowband 02 sensor. Two wires need to be moved for closed loop operation.
If you plan a K engine swap, install the appropriate engine harness and switch on VTC in the KManager software.
Tables may be map-traced in real time.
The K-Pro ECU is not real-time updateable, however most changes to tables and settings can be uploaded in 1-2 seconds via USB.
Most OBDII features may be disabled for race vehicles.
The D17 knock sensor is incompatible with the K-Pro and must be disabled in the KManager software.
Error codes and the OBDII readiness status may be datalogged.