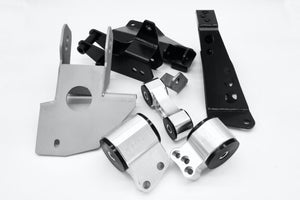 The dual-height K-Series mount kit allows the head of either a K20 or K24 to remain in the same spot.
If using a K24 with the K24 crank pulley a dropped radius rod will be needed.
Like All Hasport Mount Kits, it's designed using sophisticated CAD/CAM software. This kit features:
Ideal engine placement and axle alignment.
Designed blending strength and style with a lifetime warranty for worry free use.
Four different bushing durometers for applications ranging from daily driver to 8 second drag car. 
Hasport's superior customer service.
Hasport also has these products available for this swap.
Wiring conversions
ECU modifications
Axles
Suspension upgrades
And other swap accessories
For converting the hydraulic clutch to work with the EF, we have a conversion kit available.
SOLD SEPERATELY
 Our Clutch Master Adapter (CMA) requires the addition of a clutch master cylinder, slave cylinder and line to complete the cable to hydro conversion.